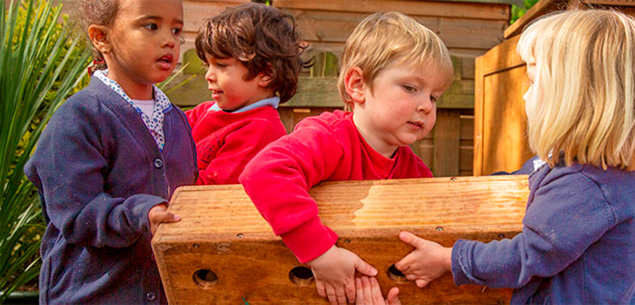 Product care
Community Playthings products deserve regular maintenance, as detailed in each product guide. Replacement parts are available, contact your account manager for details.
| | |
| --- | --- |
| | Unfinished wood: Use a mild detergent and water. Scrub with a stiff brush, working quickly to avoid soaking the wood. Wipe off excess water and allow to dry thoroughly. |
| | Finished wood: Wipe with a damp cloth and mild detergent. Do not use excessive water. To refinish, lightly sand the entire surface. Any remaining finish need not be removed. Then, following the manufacturer's instructions, apply one or two coats of child-safe varnish, using a brand you trust. |
| | Disinfecting: Use any standard disinfectant such as a bleach-based solution or virucidal disinfectant. All products should be rinsed with plain water and dried after any cleaning agent is used. |
| | Carpet cleaning: Our carpets are made of stain-resistant nylon fibre. Vacuum carpets frequently. To wash, lift any corner of the carpet to take it off, shampoo it with carpet cleaner, then replace the carpet when it is dry (on some products, partial disassembly is required for proper re-installation). For stubborn stains, refer to your product guide. |
Restaining Outlast
Community Playthings Outlast items are resistant to wood-decaying fungi and moulds. Weathering and mildew growth has no negative effect on the structural integrity but the wood may eventually fade and turn grey from exposure to the sun's UV rays. If you prefer the original look, follow the instructions below to re-stain your items. Contact customer service to request a free bottle of Outlast refinishing stain.
| | |
| --- | --- |
| | Scrub item with soapy water to remove dirt or mildew. Allow to dry completely before applying stain. |
| | Apply stain liberally to wooden parts. (If you get some on the plastic parts, don't worry, just be sure to wipe it off with a damp cloth before the stain dries.) |
| | Allow stain to dry for a few minutes before removing extra drips with a dry paper towel. Stain will be dry to the touch in a couple of hours, but it's best to let the stain dry overnight before continuing to use your item. |