Flexible for classrooms
Children are interested in everything, and their enthusiasms and understanding change and grow along with them. Our furniture is modular and adaptable, allowing you to easily refresh your environment to add interest and challenge. Hidden wheels make moving furniture simple, and no extra help is needed – no site manager or handyman necessary, just a teacher or two and a vision. Roomscapes is a combination of shelving, panels and gates that connect tool-free to enable you to essentially landscape your room.  
Mobile
Our storage shelves have hidden wheels. Flip them up to roll, flip down for a perfectly stationary unit. We try to keep our items simple and lightweight; our home corner pieces have large handholds to help you reposition them – perhaps several times a day! Our tables are also light, making them easy for staff and even children to clear to one side, creating space for a group activity.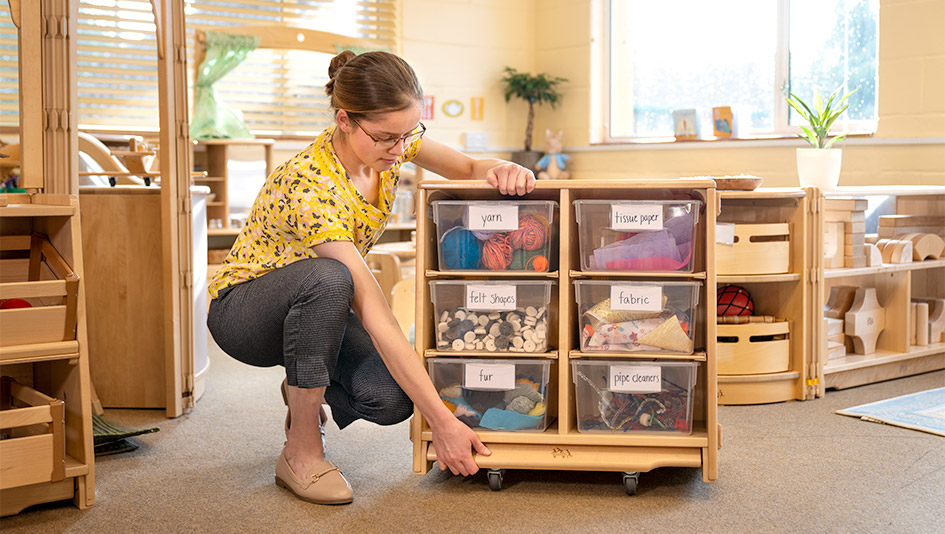 Adaptable and versatile
Equipment that is adaptable and versatile creates a fluid learning environment that can change and grow with your children, empowering staff to make new room configurations on the fly. Many of our items can be used for both older and younger children: tables have height adjustable legs, meaning that the same one can be used for the nursery children, and later in the day for your after-school club. A shelf with an added canopy can become a shop, or attach a panel on top of the shelf and create a display area for both posters and artefacts. The simple design of our products means that they can fill multiple purposes, appealing to children's imaginations, cutting your costs, and saving you from an overflowing storage room.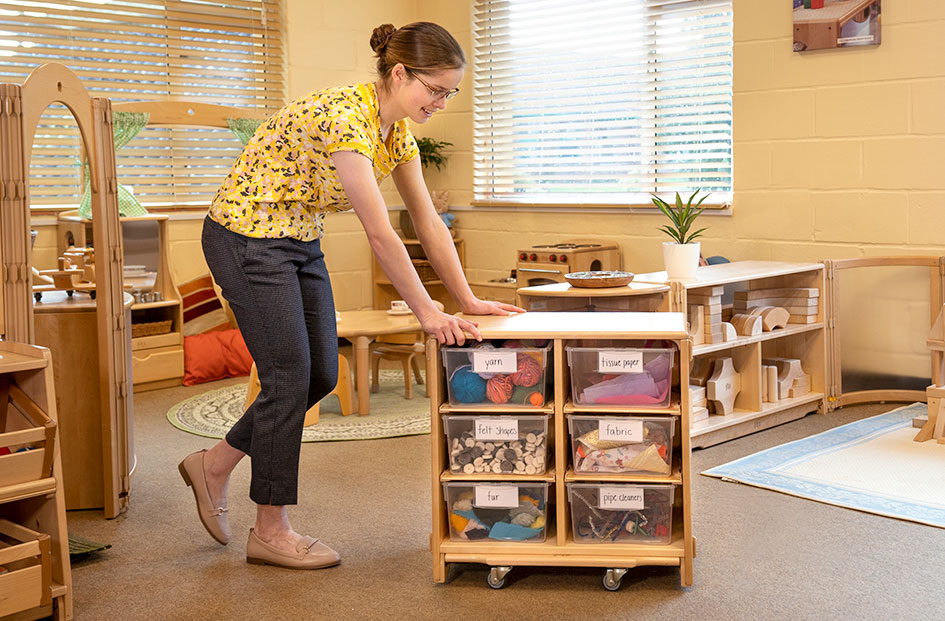 Modular
A modular room offers a high degree of flexibility for staff, and is simple for them to make changes to. It provides aesthetic harmony in rooms that can often be very busy, because children deserve calm and beautiful places where they can focus on their work of play and learning. At Community Playthings we use set dimensions, meaning that your furniture will always be of certain heights – it's easy to exchange a shelf for a panel of the same size. Our tables come in multiple shapes, and fit together in endless combinations, to create just the shape and surface area you need for one child, or for a group. And if you want to add to your room, you'll be able to get something that looks the same as the rest of your furniture, even 10 or 20 years later.