Create new list
{quantity} added to {list_name}
Exercise happens naturally on the PlayFrame as children stretch, climb, swing, jump and slide. The PlayFrame's versatility means children never tire of it, as with a fixed structure. Folds away for storage.
Adjustable
Innovative design allows for tool free adjustments to meet the changing demands of your classroom.
Collapsible
Can be collapsed for compact storage -tool-free.
Lightweight
Easy-to-move furniture. Your back will thank you.
Solid birch
We use birch, not only for its beauty and strength, but because these trees grow abundantly in our neighbouring European woodlands.
Mortise & Tenon Joints
As one of the strongest joints in woodworking, mortise and tenon joints stand the test of time.
Not finding what you need? Contact us.
Product information
Recommended ages
3–6 years
Details
Includes 2 squares, bridge, ladder, slide, 4 perches and 4 platforms
Assembles tool-free using a childproof connecting system
Bridge works either way up
Use a set of 14 mats for fall protection
Warning:

Mats or other soft surfacing required
Suitable for use by up to 20 children
Appropriate for children 3–6 years (not weighing more than 35 kg each)
Only for supervised use in childcare or domestic settings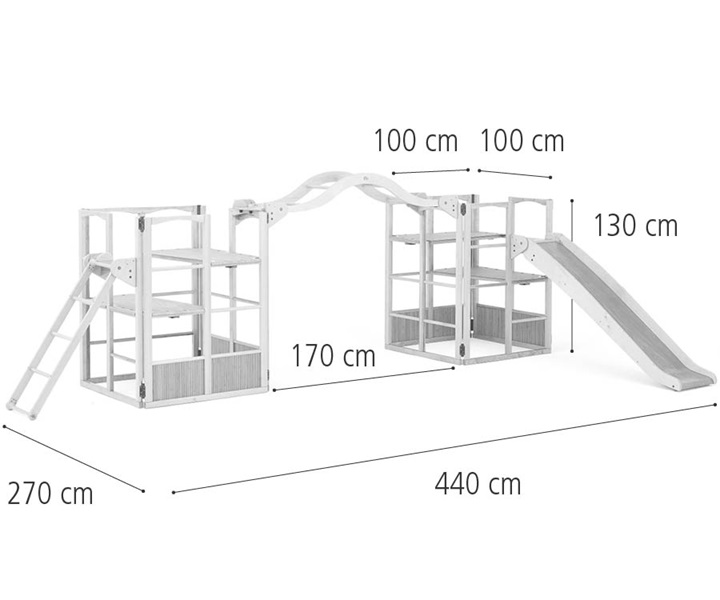 Accessories
You might be interested in ...