Article
Making it better for boys
An interview with Ali McClure
|
September 2016
Ali McClure is an education and parenting consultant and mother of three boys. We met at a networking event and here's part of our conversation.
Community Playthings: What inspired you to champion the cause of boys?
Ali McClure: When I was a deputy head teacher I realised that the template cut out by our education system is often better matched to girls than to boys. Even though each child is most definitely a unique individual, the pattern of boys' innate behaviour and learning rarely matches this template.
I was always drawn to those boys for whom the journey of learning and of life was a challenge. It was humbling to find a boy, whose behaviour most people would have described in negative terms, reaching out to me, trusting me to help him make positive steps forward. This continued when several years later I found myself to be a proud mother of three great guys, finding strategies and solutions to help them to become successful, confident and to look forward to fantastic futures.
For me, the most important part of my work is dropping pebbles in ponds. I'm simply the messenger to help you to change the chances for so many boys. Over weeks, months and years I watch how the real experts with boys, those who are with them every day, make the ripples spread and grow.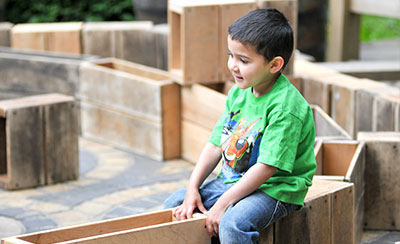 Community Playthings: You wrote a book called Making it Better for Boys. What effect has this book had?
Ali McClure: My book Making it Better for Boys is like my fourth child; when it was first published eight years ago, I simply hoped it would make a difference. I am humbled, pretty much every week as people come back to me and tell me:
"It's my Bible on boys."
"I wouldn't be without it."
"I refer to it every time I face a new challenge."
I have had the privilege of working closely with three of the top six performing local education authorities for closing the gender gap at the age of five. In Richmond almost every early years setting has sent its staff on my Making it Better for Boys training and embraced this message directly into its practice. The gap there has closed dramatically: 89% of boys in Richmond are achieving early learning goals as opposed to 69% in the lowest performing areas. That's 20% difference. I'm so grateful to all Early Years Practitioners in schools and settings who are literally 'Making it Better for Boys.'
Community Playthings: Have you seen your ideas working in neighbourhoods or schools?
Ali McClure: One nursery owner, Susan Greenfield, attended my course as the book was published, returning to her nursery to put the messages into practice. She now has a group of outstanding nurseries. When I visited her early this year, I felt like I was coming home; every child, boy or girl was happy and relaxed. They were playing, exploring and engaging. The staff was the happiest and most motivated of any setting I have visited. One member of the staff built a sensory rocket, a water wall, and other things that support boys' learning. There are indoor climbing walls, outdoors is always accessible, and there is even an allotment for parents.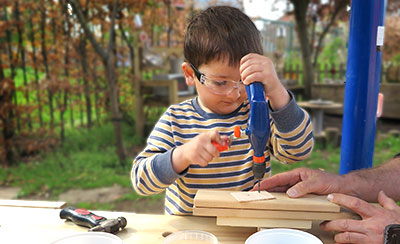 Community Playthings: You encourage dads and lads to do projects together. 100 years ago this was a way of life; now we need to work hard to bring that back. Do you see it happening?
Ali McClure: Recent research is showing that from the age of one the father or father figure plays a huge part in helping with self-regulation, making choices, and helping boys learn how to be with others. Because of the stresses of life today and the huge expectations of business, it is a real challenge for Dads to be as big a part of their boys' lives as they might aspire to.
On the positive there are now many more Dads and lads opportunities; schools and early years settings are recognising this too. They are planning meetings and events that appeal to Dads: cooked breakfasts (especially those that include bacon), practical tasks and things that invite dads to recognise and share their skills.
From my courses, parent talks and books, the biggest impact I have seen with Dads is they're understanding more of what makes their boys tick, how to manage the powerful effects of testosterone and the need to move (exercise before expectation). More and more Dads are prioritising one-to-one time with their boys.
It is encouraging that more and more dads are taking paternity leave or flexing the daily schedule to be there for breakfast or bedtime. Many work more flexibly in order to be that important rock as well as a great role model: Rock and role dads!
Community Playthings: What about mums and daughters?
Ali McClure: Mums are the first and strongest emotional link both for their boys and their girls. The importance of motherhood has been side-lined in recent years in favour of mums returning to work. The first years of life have been proven to be the most crucial in building emotionally responsive and resilient children and adults! We need to really give mums, as the primary caregiver, the priority and respect they deserve.
Girls today are finding things tougher than ever before. Education and society place such stresses on them – they are expected to achieve and to be perfect: perfect skin, perfect hair, perfect bodies, perfect results, perfect behaviour… The media simply make this all the more acute. What mums can do is help moderate those pressures. Help them to aim high and do their best but to know that perfection is different in everyone's eyes. Most importantly and as our children grow mums need to be emotionally accessible, to put aside demands and pressures and have time to connect, play and listen.
Community Playthings: If you could choose one of our products and put one in every early years setting across the UK, what would it be?
Ali McClure: It has to be Outlast every time. Outlast is so flexible, it encourages all the characteristics and skills children need to learn, especially boys. Through playing, exploring and experimenting Outlast lets them build, climb and imagine. Children work together and learn the skills to communicate and work together. With Outlast children can try, fail and try again. Best of all, it's outdoors with fresh air, space, freedom, incorporating imaginative play and learning… It makes me want to join in too!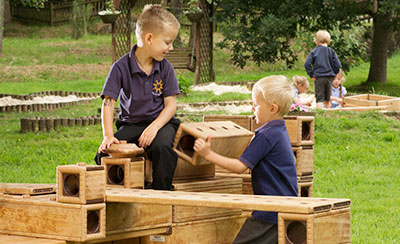 Community Playthings: What is important in your family?
Ali McClure: Like most families we have built traditions over the years – little things that make every family unique.
Some are fairly normal like taking family dog walks with Cookie, our Lurcher, rock climbing on the craggy beach in Lee in Devon, watching the same movie every Christmas Eve, and sharing our passions: music, drama, science, Shakespeare, cooking, magic, maths…
Some are a little quirky: Parties in our teepee – whatever the weather, collecting samphire from muddy marshes in Lincolnshire, or singing Bohemian Rhapsody at the top of our voices on the top of a hill.
Traditions are important too: Christmas day at noon sharing sherry in the street with neighbours – community is so important in families. Whatever we do, we like best to be together: talking, eating, cooking, walking… Whatever it is that makes your family special, do it together. That is one sure-fire way of making it better for boys.
Now my boys are almost grown, and I think the biggest thing my boys have gained is that they are not afraid to try something new or different, something creative. They love science, maths, drama, cooking – one is even a magician!
Community Playthings: What are your top tips to parents and practitioners for making it better for boys?
Ali McClure: My best tips would be:
Get outside more; sit and listen less.
Bring learning to life.
Make communication and connection with each boy and their family a priority.
If you would like more tips: these are free to download at www.alimcclure.co.uk
Oh yes, and read the book, of course.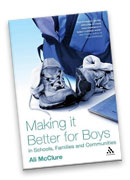 Topics
Advocating to meet children's needs, Personal, Social & Emotional Development