Article
Teaching phonics in the early years
|
June 2012
Jim Rose's interim report on best practice in the teaching of early reading came out in February, and will be followed by a final report in early March. Mr. Rose, a former head of inspection at OFSTED, suggests that young children should have access to a rich curriculum which will help to extend their listening and speaking skills and motivate them to become confident readers. He also recommends that synthetic phonics should be taught "first and fast and only" to children in reception classes. This possibility worries a wide range of early years practitioners, advisers, academics and researchers, who think that the report does not recognise the dangers of instructing groups of young children in phonic work. There is strong research evidence which supports an individual approach, based on what children already know, their interests, and their particular needs.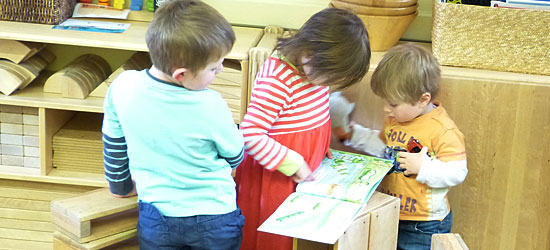 Of course it is important that all children become confident, fluent readers who enjoy books. Knowledge of phonics has a vital contribution to make to literacy, and there are many engaging ways of introducing very young children to sounds and letters, which make sense to them. Interactions between babies and their caregivers often contain repeated exchanges of the phonemes that are the building blocks of language, enhanced by songs and rhymes that help children begin to sound out words and converse in a context which makes sense to them.
Anyone who has lived or worked with very young children will know that they enjoy playing with sounds, while being physically active, socially engaged, and creative in their pursuit of knowledge and understanding. A lot of learning happens before statutory school age, when parents and practitioners invest time in developing children's skills in listening and communicating, and encourage early reading and writing in the broadest sense. Adults working in the Foundation Stage need to be aware of how children learn, and how to relate new knowledge and skills to what they can do already, extending their previous experience in ways that motivate them.
It is important for early years staff to be informed about the structure of language, including phonics, so that they can combine this with their knowledge of individual children, especially those who may have special educational or social needs. Children who can read already, who are dialect speakers, or who are in the early stages of learning English, are likely to feel failures if expected to follow a formal programme of phonics teaching. Not all children pronounce words accurately at five, and many do not understand what teachers want them to do within a formal phonics programme: for example, children in a reception class were being introduced to the letter "r". One responded to a picture of a rabbit by saying "wabbit" and another called a red coloured circle on a stick "a lollipop." Spelling out even regular words needs a particular skill to transform "ker" "a" ter" into "cat", and a four year old who writes "fam" should be congratulated for his effort at spelling "farmer". Common words like "was", "one" or "why" are not predictable.
English is a more complex and less predictable language than most. This is not, however, an argument to introduce formal teaching earlier, but rather an argument to allow time for children to build up their knowledge securely. Children in other countries learn how to read, write and spell quickly and accurately at a later stage, and there is no convincing evidence that a formal programme of phonics teaching before five results in better outcomes later. On the contrary, a rigorous review of research commissioned by the Department for Education and Skills does not support the early introduction of a programme of phonics teaching. Just two examples from the sample included children under five, and they "only show that this can be done, not whether it should. This would require strong research evidence that a start before age 5 enables children to make better initial progress, and sustain it. No such evidence was found in this review."
Appendix B, p.55 in Torgeson, C., Brooks, G. and Hall, J. (2006) "A Systematic Review of the Research Literature on the Use of Phonics in the Teaching of Reading and Spelling" DfES.
Nor does the evidence support the introduction of phonics first, fast or only:
First: "The main findings of this review do not support the view that any children who have not yet started to read at school entry should immediately receive systematic phonics teaching" (p.55)
Fast: "No such experiment [to compare fast synthetic phonics with slow synthetic phonics] is known to have been carried out. Instead there are assertions that a fast pace is crucial and some examples…But again, these only show that this can be done, not whether it should." (p.56)
Only: this word implies "No use of other word-identification strategies besides phonics…and a brief early phase within phonics teaching when books are not used. No conclusive research evidence was found on either" (p.56)
Like parents and practitioners, the Sure Start Unit is tuned in to the reality of young children's learning needs when it states:
"The approach of practitioners will be age appropriate, ensuring that there are different activities for children of different ages and at different stages of their development. Through the Early Years Foundation Stage, parents can feel secure knowing that all settings will allow children to progress at a pace that's right for them as individuals." Early Years Foundation Stage: Direction of Travel document (2005), paragraph 2
Jim Rose himself has commented that it is ultimately up to teachers to decide how they work with their classes. People who are trained and experienced in early years education and care should ensure that children's enjoyment of books and motivation to read widely is sustained and extended through practice that accords with the principles which underpin the Foundation Stage.
The Early Years Curriculum Group has campaigned for years to help staff working with the youngest children to understand, respect and enjoy the power, sophistication and complexity of their learning. If the final versions of the Rose Review continues to press for synthetic phonics first fast and only before five, we will be advising practitioners and parents to "just say no" to formal phonics teaching in the Foundation Stage.
Topics
Literacy, Communication & Language