Article
What's so good about wood?
A conversation with Pete Moorhouse
|
August 2016
Pete Moorhouse worked with us to publish a book Woodwork in the early years. We recently had a conversation with Pete about why he thinks woodworking is so important and what happens when you give a three year old a camera. Pete works with three and four year olds at St. Werburgh's nursery school in Bristol and he gives trainings on environments all around the UK and abroad.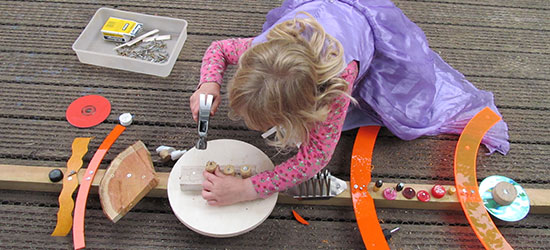 Why do you think woodwork is so important for young children?
Woodwork provides a unique experience for children. It is hugely popular and children's focus and engagement is sustained for extremely long periods. I see woodwork as another medium with which children can express their imagination and the creative possibilities are endless.
Woodwork encompasses all curriculum areas such as mathematical thinking and physical development but I believe it also goes beyond curriculum. It is so important children get to experience real tools – it's shocking to think that most children currently go through their entire education and never use tools. The experience provides children with life skills – the ability to make and repair rather than consume and dispose; also the ability explore ideas practically, a skill so important to innovation, science and design. As children construct their models they encounter many problems – how can I fix this to that? What length nail should I use?
I really believe every child should have the opportunity to experience woodwork – for many children it is the key that unlocks their learning. It is certainly a real joy to see their deep engagement and pride in their achievements.
You do some work with photography in your Nursery School. What happens when you give a camera to a three year old?
Children at this age are so curious and are naturally very experimental. Children are sophisticated visual thinkers – it's their first language - as seeing comes before spoken language. I am constantly taken aback by their sense of aesthetics and attention to detail.
One of the most powerful aspects to children using cameras is that it allows us as practitioners to see their unique view of the world. When reviewing images together it stimulates so much dialogue – much more that if they had been asked direct questions. For example at the end of the nursery year we ask the children to take pictures of aspects that have been meaningful during their year. When we look at the images later on the laptop, it is amazing just how much they have to say, explaining why they took each picture and why it was significant. I feel a children's camera should be a resource available in every classroom.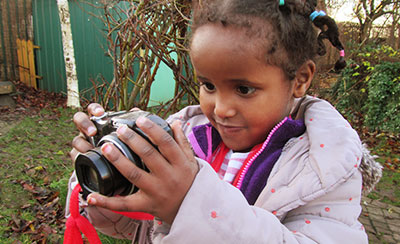 You give trainings all around the country on enabling environments. What can you say about how the environment affects learning?
The power of the environment has long been underestimated. In Reggio Emilia they talk of the environment as being the third teacher. This emphasises just how much importance they place on creating a supportive learning environment.
There has been much research providing evidence on the impact of the environment in hospitals, schools and in the workplace. It highlights the impact of the environment on our sense of well-being and self-esteem. A beautiful, tidy, well designed space makes children and families feel valued.
The physical environment also influences our energy levels, concentration, behaviour and dispositions to learning. The way the environment is organised and resourced influences exploration and investigation, and gives us opportunities to express our imagination and creativity, opportunities to communicate, work together or space to have time alone.
What are some of the important elements of an outdoor environment?
Currently children increasingly spend less time outdoors than previous generations, so it is really important they get outdoors as much as possible, to experience the changing elements, sounds, smells and of course to exercise as well. Recent research from Harvard suggests children learn up to 25% more effectively outdoors, so we need to capitalise on this by creating an environment rich with opportunities for children to express themselves and to develop their critical and creative thinking.
In some sense the outdoor environment should be an extension of the classroom, but it can offer so much more. I always like to see benches, logs, stools, so practitioners can get down to the children's level. In order to communicate, to show interest and extend their thinking, we need to be at their level. Next we want children to be curious – curiosity being the catalyst for engagement. So an outdoor environment needs to be richly resourced allowing children many possibilities opportunities to make connections between different areas of learning.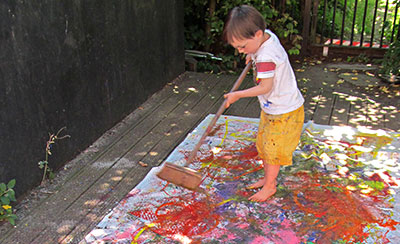 What about those settings that due to location make development of an outdoor environment a challenge?
Every setting will have their own challenges and sometimes making improvements can seem overwhelming. The important thing is to be slowly making additions, following a vision of how we would ideally like outdoor learning to be. Generally nurseries spend a lot of time setting up indoors, but we need to think of how we can create a rich learning environment outdoors. Open-ended resources, materials that allow multiple investigations are a great addition to any outdoor area – such as recycled products: tubes, tyres, crates etc. Community Playthings wooden blocks are another wonderful resource for children to explore and express themselves in a multitude of different ways.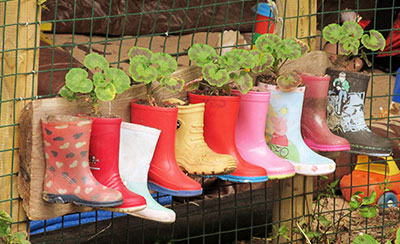 What do you do for relaxation?
I like to relax by being busy! At the moment my son and I are making a wood fired pizza oven in the garden so I'm looking forward to having friends and family round to share pizza with us!
Topics
Woodwork, Outdoor and nature