Article
Built-in vs. freestanding furniture
|
June 2012
Storage is an important issue in any children's setting. Play equipment, art supplies, books, bedding, dress-ups, science and nature materials, found objects, clothing, decorations… any childcare practitioner could add to the list of items accumulated to serve a centre. For a new setting, the issue of storage needs to be considered during design stage to ensure that decisions truly support children and staff in their use of the space.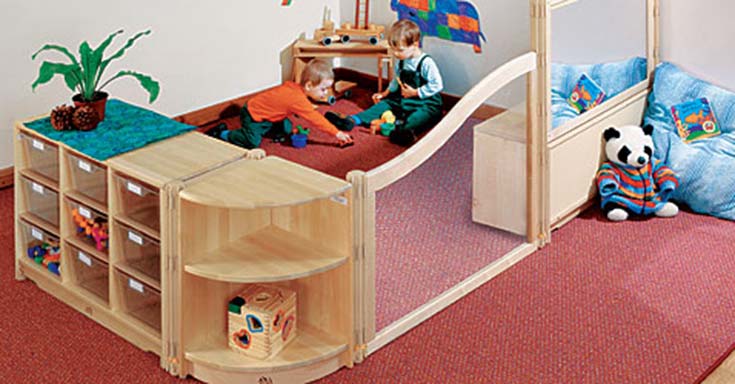 Jim Greenman's list of characteristics of good storage can help. Storage should be:
Located close to point of use
Able to comfortably hold and distinctively display contents
Aesthetically pleasing
Clear and understandable to its user, whether 20 months or 20 years old
Safe
Built-in units have their place, particularly for long-term storage of items used seasonally or on rare occasions. But built-in units can pose problems as well, particularly if they steal space that could be used for play, or if traffic to the storage units disrupts children's activity. Built-in units also prescribe the use of space, whereas you'll want as many options for room arrangement as possible.
Mobile freestanding shelves are useful. They can be placed to create natural boundaries between activity areas, thus protecting children's play and supporting their focus. They can provide accessibility at point of use, giving children the sense of satisfaction and independence gained when they can make their own decisions and take and return materials themselves. Since they are movable, freestanding shelves allow for flexibility of your space, which is key for several reasons:
Changes in numbers or ages of children
Inclusion of children with special needs
Changing themes
Extending learning patterns
Recapturing interest if a particular area is little used
Varying functions of space (e.g. after school club or community activities)
Children and staff settle into their space most naturally when they can determine where and how resources are stored. Just as a child needs freedom within the structure of your schedule, the furniture too needs 'elbow room' to move within the building; a centre for children is like a living organism that needs to breathe, move around, and get comfortable! Architect Mark Dudek states, 'If the users are able to modify the way in which their spaces are used, they will be more inclined to feel that the building belongs to them.' (Building for Young Children, National Early Years Network, 2001)
So it is logical to limit built-in storage to closets outside the room (perhaps in a corridor or attic), and use mobile freestanding shelves for storage within the children's space.
References
Greenman, J. (1988). Caring Spaces, Learning Places, Exchange Press